Chairman's Message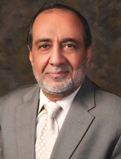 Mr. Arif Elahi
Chairman PNSC
PNSC like any other national shipping company is very special and challenging. It is special because of, the truly global nature, the highly cyclical markets at play, and the unique competitive structure, with many determined players in oceans to compete with. It is challenging because of ever changing market dynamics.

The accomplishments of our corporation require the diligence and acumen of professional people working together to meet our aspirations of recognition as one of the best global shipping companies and to deliver as we promise to our clients. As we march forward we continue to keep these thoughts in mind and strive to find the best mix of continuity and change to respond to volatile shipping market's dynamics.

I am fortunate to have with me a handful of people in PNSC who share my enthusiasm and desire to be second to none in shipping business. With this goal in mind we have embarked on renewed 'vision' and 'work ethics'. I am proud to say that PNSC will continue to add talented and dedicated professionals who share philosophy of providing service based on hard work, integrity and professionalism.

So far, our activities have focused on diversified shipping business, derived from the transportation of oil liquids, bulk and dry cargoes of nearly all types. Our younger fleet and shipping vessels are equipped with up-to-date facilities; with highly sophisticated equipment and computerized automation network. The success of our fleet replacement together with prudent management efforts will help us attain our goals. Undoubtedly, we are endeavoring to enhance our business operations. Our business plan also includes addition of Oil Tankers, Dredgers, Tug Boats, Ferry Boats and Port Infrastructure activities.

We take pride in Proficient and Quality Services. We are delighted to learn that our commitment to professional and quality service has received acknowledgment which will only reinforce our resolve and encourage us to strive for higher levels of excellence.

I thank our valued clients for their business and thank my colleagues for their loyalty and dedication. We look forward to serve with first class transportation solutions in the twenty-first century.
ARIF ELAHI (P.A.S.)