Chairman's Message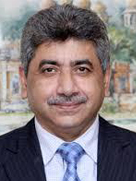 Mr. Shakeel Ahmed Mangnejo
Chairman & CEO of Pakistan National Shipping Corporation
Pakistan National Shipping Corporation (PNSC) is the pride of Pakistan, being its sole national flag carrier amongst commercial shipping companies. Since incorporation, PNSC has strived to fulfill its duty to the nation by maintaining seaborne trading routes through an all-weather and dedicated shipping service. PNSC carries around three-fourths of all crude oil imported to Pakistan, providing a critical economic lifeline to Pakistan, thereby becoming essential in maintaining energy security. Over the years, PNSC has increased its value proposition by branching out, beyond basic shipping, to better harness synergetic opportunities from ancillary businesses, including NVOCC and maritime engineering works. PNSC has evolved into an industrial provider of maritime freight services directly to producers, refineries and end-users of raw materials and commodities.

PNSC's financial performance has improved significantly in recent years. Consistent dividend payout policy and maintenance of AA long term credit rating from PACRA are testament to this improvement. These achievements could not have been possible without the focus and dedication from PNSC's management, officers and staff. PNSC has built ample financial stability to weather any storm, particularly in relation to COVID-19, and at the same time dedicate resources towards expansion opportunities which may present themselves during this period of economic upheaval and change.

PNSC is committed towards the concept of forging a sustainable healthy environment for all segments of society. Recent initiatives focus upon the preservation and protection of marine environment at sea and within ports. These initiatives include the switch to low sulphur fuels for better coastal air quality; installation of ballast water management systems in the entire PNSC fleet to ensure clean coastal waters & preservation of indigenous aquatic life forms. To ensure effectiveness of environmental regulations as well as best practices for the safety of life at sea, the Corporation is committed to adopting in letter and in spirit IMO conventions as and when they become applicable.

PNSC's greatest assets are its employees, armed with their determination, competitive instinct and oneness of purpose. PNSC shall endeavor to fulfill its mission by maintaining cost effectiveness without compromising on quality of service with tangible results.

It is my privilege and honour to have assumed the office of Chairman and CEO of PNSC.


Shakeel Ahmed Mangnejo