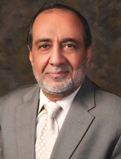 Mr. Arif Elahi P.A.S.
Chairman PNSC
Chairman's Profile
Mr. Elahi is a Science graduate from DJ Science College and Master in Business Administration from IBA with Majors in Marketing & Finance. He joined Civil service in 1984, DMG group, now known as PAS. Before joining the civil services, he was part of a private organization doing international trade. Being a field Officer he served at various stations like Mirpur Matelo, Badi etc and also as :

• Deputy Commissioner Karachi – South – Sindh &
• Deputy Commissioner Quetta – Baluchistan
He headed the Excise & Taxation Department of Balochistan where he established a new Excise Secretariat and changed the whole revenue collection system, introduced new number plates, registration books and computerization etc resulting in increase in revenue manifolds and facilitation to the tax payer.



Managed the entire relief operation in the worst ever drought in 2000 as the Addl Relief Commissioner - Balochistan.



Served as the Director General of BOI for 8 years and was part of the team which took the country's FDI from US$ 400 million to US$8400 million p.a.
He Established the Sindh Board of Investment and introduced various investment attractive schemes in the rural areas of Sindh.

Mr. Arif Elahi has had the honour of representing Pakistan and read papers at many national and international conferences, seminars, exhibitions and even as Manager of Pakistan National Boxing Team. at the Pre-Olympics winning two Gold medals for Pakistan.

He organized the 21st Islamic Foreign Ministers conference , the Pakistan vs Zimbabwe Series, and many national and international Investment conferences , labour related conferences, and managed many more local , national and international events, exhibitions and conferences. Conducted numerous foreign potential investment delegations.




Among his other assignments with the Government of Sindh he has also served as:

• Secretary Investment
• Secretary Labour – Chairman Sindh Workers Welfare Board
• Secretary Tourism
• Secretary Industries & Commerce – Chairman Site
• Chairman Export Processing Zone Authority - Government of Pakistan
He joined PNSC as its CEO and Chairman 2 years back, and during his tenure has turned around the organization into a success story of taking its share value to Rs. 200 from Rs. 65 a year ago, showing record profit and closing the year with Rs. 2363 million as net profit. This was achieved due to effective and efficient management, reduction of costs, renegotiating financial loans and introducing HR changes at all levels of the Corporation.